Izhevsk is the capital of Udmurtia, one of the twenty largest settlements in Russia. This city is famous for the products of its metallurgical, defense and industrial enterprises, therefore it is sometimes called the "Armory Capital of Russia".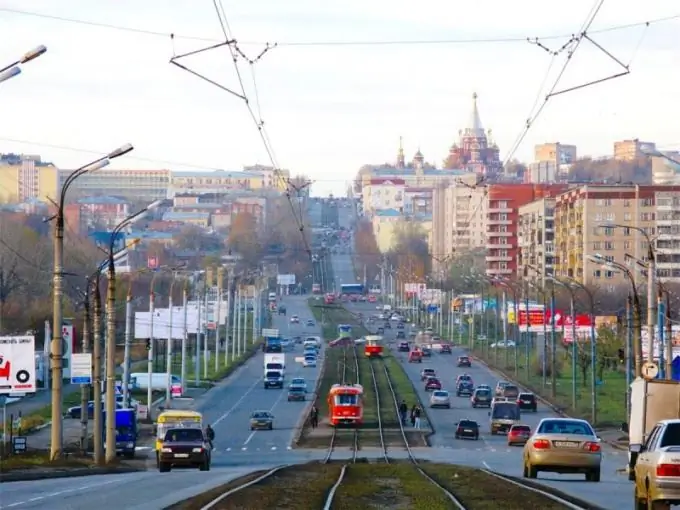 Instructions
Step 1
In the very center of Izhevsk there is a railway station, the services of which can be used by any traveler. The capital of the Udmurt Republic has direct rail links with Moscow, St. Petersburg, Yekaterinburg and other cities of Russia. From Moscow-Kazanskaya to Izhevsk by trains №№026 and 290 you can get there in 17-18 hours. From St. Petersburg-Kursk to Izhevsk can be reached by trains No. 131 and 459, travel time will be 21-22 hours. The local railway station is the departure point for trains No. 189/190 on the Izhevsk - Simferopol route. Izhevsk also has direct suburban communication with Naberezhnye Chelny, Kazan, Votkinsk, Agryz and Balezino.
Step 2
An alternative way to get to Izhevsk is by bus. From both capitals you can get by bus to Izhevsk only with transfers in Kazan, Keze or Votkinsk. Flights to 16 cities of the Russian Federation are carried out daily from this settlement. Most often, buses run on the routes "Izhevsk - Mozhga" and "Izhevsk - Votkinsk", the departure is carried out every 60-70 minutes.
Step 3
Travelers who prefer to travel by car will find it easy to get to Izhevsk, as the European route E22 runs next to it, starting in the UK and ending in the Russian city of Ishim. This highway passes through the Pskov and Tver regions, Moscow, Vladimir and Nizhny Novgorod regions, Chuvashia, Tatarstan, Udmurtia, Perm Territory, Sverdlovsk and Tyumen regions. In addition, three regional highways start in Izhevsk at once: P320 (to Elabuga), P321 (to Glazov), P322 (to Sarapul).
Step 4
Izhevsk also has its own airport, which is the only one in the entire republic of Udmurtia. Flights to Moscow (Domodedovo), St. Petersburg, Ufa, Yekaterinburg, Samara, Kirov, Nizhny Novgorod, Novy Urengoy and Nizhnevartovsk are regularly sent from here. In summer, additional flights "Izhevsk-Sochi" and "Izhevsk-Anapa" are organized. You can get from Moscow to Izhevsk by plane in just two hours.