Loo is a small, cozy village on the Black Sea coast 18 kilometers from the city of Sochi. Rest in such a place can be very pleasant for a city dweller tired of the bustle of the city. The main thing is to know how to get there.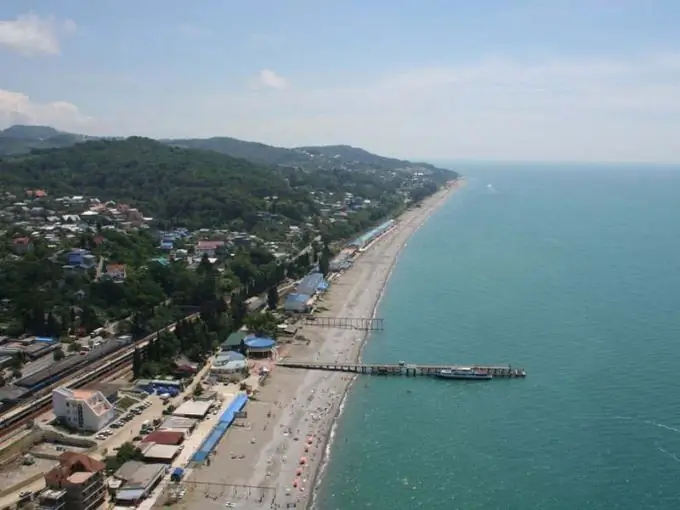 Instructions
Step 1
If you are traveling to your holiday destination by train, you should not have a problem how to get to Loo. Loo station is located on the railway line after Lazarevskaya and in front of Sochi. All trains stop on it, except for No. 102 "Sochi-Premium" and No. 104 "Moskovia", following the route Moscow-Adler.
Step 2
In case your train does not stop at Loo station, get off at the next stop, in Sochi. There is a bus station in the immediate vicinity of the train station. There you can take a minibus or a bus going towards Lazarevskaya via Loo. Travel time is about forty minutes.
Step 3
If you prefer to fly by plane, then you will have to get to Loo from the airport in Adler. Option one - some hotels carry out a transfer of vacationers from the airport to the vacation spot. When booking a hotel room in advance, check with the administration if the hotel has such a service.
Step 4
Taxi option. This is the most expensive way. In the airport arrival hall, you will be attacked by taxi drivers. Fighting them off is not so easy. If you decide to take a taxi, bargain more boldly. True, sometimes at the end of the route you may find out that the cost of the trip has increased due to unforeseen circumstances.
Step 5
Another option is to get to the railway station in Adler by minibus or bus (10-15 minutes), and then get to Loo by electric train. The train travel time is from an hour to two, depending on the speed. Electric trains run six times a day at fairly long intervals. The Adler-Loo suburban train schedule can be viewed on the website
Step 6
In addition, you can get to the bus station in Sochi by minibus or bus from the airport. It will take you forty to fifty minutes. Then proceed as indicated in step 2. The motor transport network in Sochi and its suburbs is well developed, minibuses and buses run frequently. True, there is a risk of getting stuck in a traffic jam during rush hour.