A wedding abroad is a beautiful and memorable event in the life of a newlywed couple. It is possible to register a marriage that will be recognized as legal in the Russian Federation in many countries. Therefore, the wedding does not have to be carried out in your home country.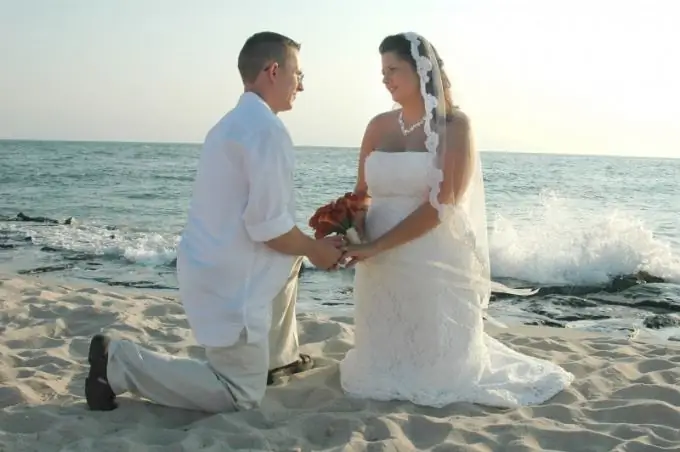 To make the wedding celebration memorable and unusual, some couples prefer to arrange a wedding abroad. The most popular destinations for wedding tours are Bali, Dominican Republic, Cuba, Indian Ocean islands (Maldives, Mauritius and Seychelles), South Africa, Italy, Greece, Spain and Cyprus.
Wedding in Mauritius
Mauritius belongs to the Mascarene archipelago and is located in the Indian Ocean. This island attracts future newlyweds with its picturesque landscapes, unique tropical nature and serene rhythm of life.
Despite the fact that holidays in Mauritius are not cheap, many hotels on this island offer their guests free services for organizing wedding ceremonies.
Formal moments of marriage registration must be prepared in advance. No later than one month before the expected date of the wedding, the couple must send an application for registration of marriage to the Civil Office located in the capital of Mauritius - Port Louis.
A marriage entered into on the island of Mauritius is recognized as valid in Russia. It is for this reason that Mauritius is one of the popular destinations for wedding ceremonies.
Wedding in Cyprus
Getting married on the sunny island of Cyprus will cost significantly less than in Mauritius. Anyone can get married on the territory of Cyprus, for this you must first submit an electronic application to the municipality of the city in which the wedding will take place. Wedding services are provided by many hotels in Cyprus.
A marriage contracted in Cyprus is recognized as legal in Russia. For celebrations, future newlyweds usually choose cities such as Ayia Napa, Larnaca, Protaras, Paphos or Limassol.
Bali wedding
The paradise island of Bali, washed by the Indian and Pacific Oceans, is an amazingly beautiful place. However, getting married in Bali can cost you about the same as buying a new Japanese mid-range car.
If the financial side of the issue does not frighten the future newlyweds, then they will have an excellent opportunity to enjoy tropical exoticism and get married on one of the sandy beaches of the paradise island.
However, the official registration of marriage, which will be recognized by the Russian Federation, can be carried out only at the consulate of the Russian Federation in Jakarta. The procedure for official registration in Bali requires compliance with a lot of formalities and takes a lot of time. Therefore, many couples who know about this sign in their homeland, and go to Bali only to celebrate the wedding.