The symbol of the Turkish city of Side and the entire Mediterranean coast is the Temple of Artemis, which has attracted thousands of tourists for many years.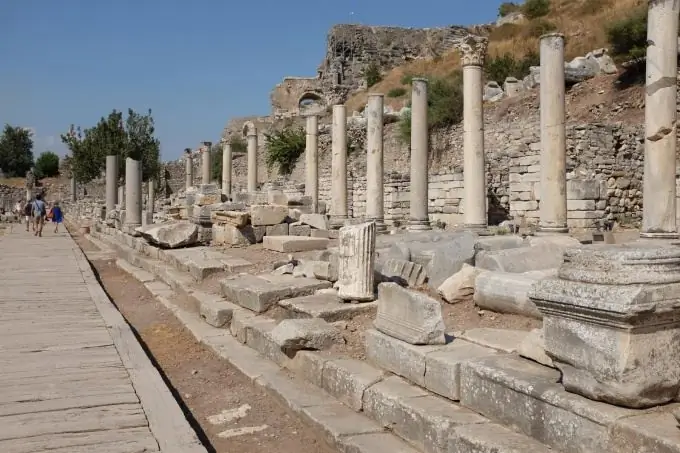 You will find this temple if you go for a walk in the central part of the city of Side towards the market. The temple is located almost near the sea itself and is adjacent to the Temple of Apollo.
These two buildings were built at the same time and reflect the love of local residents for the two most important gods - Artemis, who embodies the Moon, and Apollo, who symbolizes the Sun.
At the moment, the temple of Artemis has survived only partially, only five marble columns, made in the style of Ionic architecture (Corinthian style), remain from it. The dimensions of the temple are 20 by 35 meters, it is relatively slightly larger than the temple of Apollo. It is these five marble columns of the temple, which survived the earthquake of the 10th century, that became sacred to the inhabitants, they are depicted on all advertising brochures of the city. You can only see how the temple looked like when it was depicted on paper.
In ancient Greek mythology, Artemis is a virgin, young goddess who patronized hunting and fertility. The daughter of Zeus and the goddess Leto helped all living things on earth, bestowed happiness, helped in marriage and childbirth.
When you are on vacation in the Turkish city of Side, be sure to visit the Temple of Artemis and you will not regret it. Enjoy your travels!