Mountain tourism should not be confused with mountaineering. You don't have to have cool gear or years of special qualifications for such a hike. But to climb to the top during mountain tourism, you must have a body prepared for physical exercise and the absence of a panic fear of heights.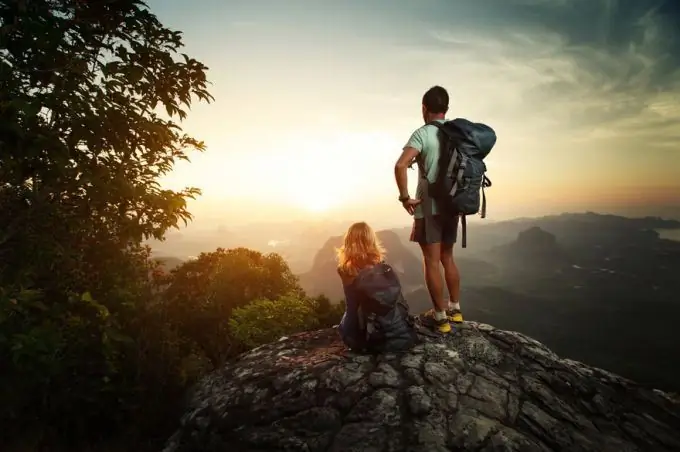 You need to take a very responsible approach to preparing the upcoming campaign, so as not to let others down and not get an unpleasant injury.
Not every mountain is suitable for a mountain tourist, as there is a clear rule: mountain tourism is climbing a mountain, the height of which starts from three thousand meters and above. Therefore, for example, in Crimea, it is not possible to engage in the presented type of tourism. But it never hurts to practice and gain the necessary experience on the Crimean mountains.
Only a sports doctor can give the go-ahead for mountain tourism, since the list of contraindications is quite impressive. First of all, climbing the mountains is prohibited for people with problems of the heart and blood vessels, for a person who has had an infectious disease in recent weeks, has chronic hepatitis, diseases of the endocrine system, or problems with breathing and nasopharynx.
If a person has successfully passed the medical examination and has sufficiently good physical training, then it remains to acquire suitable clothes and the necessary things to fill up your backpack.
Clothes from the market disappear for such an event right away, as they do not have sufficient strength and may not withstand extreme mountain conditions. To be sure of the quality of materials and their ability to store heat, you need to choose things in a specialized store.
The minimum list of necessary things when traveling in the mountains: clothes that can protect from the wind, sun cream, a cape that protects from the rain, specially designed mountain boots or sneakers (it all depends on the season), changeable shoes for rest in the parking lot, forehead a lantern, a flask for storing water, a travel mat, a sleeping bag and, of course, a backpack up to 60 liters, in which all of the above will be carefully packed.
Also, for safety, the minimum equipment for a beginner climber must be purchased.