The new winter tourist season in the Altai Territory will open on December 12-13, 2014. This holiday is timed to coincide with the arrival of swans to Altai. The holiday is held in order to reveal the wide possibilities of winter recreation in the Altai Territory.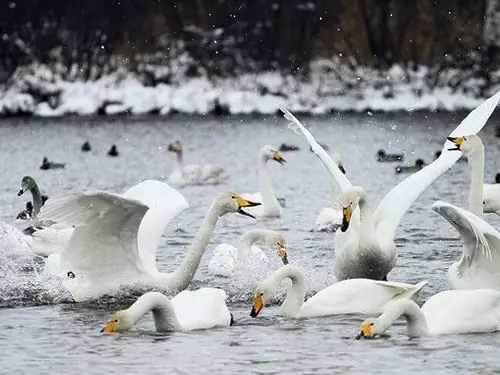 Instructions
Step 1
For more than 40 years, whooper swans have flocked to the Sovetsky District of Altai Territory for wintering, to the only non-freezing lake Svetloye, a unique natural object. Usually 300-400 birds stay for the winter. Feeding of the swans is organized annually, the necessary stock of grain mixture is created.
Step 2
The warm lake, where swans fly, is equipped with a bird watching pavilion. The area for vehicles was also reasonably located; therefore, the noise does not disturb the birds.
Step 3
The opening of the winter tourist season in Altai is a major event. The Minister of Culture of Russia has already paid attention to him. It is planned to hold a festive ceremony with the participation of the governor of the region.
Step 4
6 festive sites are involved. People will be able to admire the foothills of Altai, rise to a height of 800 meters above sea level. Guests, and they are planning to meet in the amount of 5,000 people, will be offered demonstration performances of alpine skiers, ATV races, snowmobiles and dog sleds. One of the brightest events will be a visit to a warm lake, excursions to the wintering places of swans.
Step 5
In addition, a competition of ice sculptures, photo and video works will be held. They will delight you with exhibitions and expositions of handicraft topics. Guests will be offered to participate in various competitions, admire giant dolls, etc.
Step 6
You can get to the place of the upcoming celebration as follows. To the city of Barnaul, air travel, rail transport and road crossings are provided. On December 13, a free bus will be sent from Barnaul to the place of celebration. Tourists only need to pre-register for this flight. Registration is carried out on the website expo.visitaltai.info.
Step 7
Belokurikha, a resort town, the nearest place from the holiday center. There are many hotels and inns here. You can also stay at camp sites and private houses in the Smolensk and Altai regions.