There are many interesting sights in Crimea. In addition to man-made beauties, this peninsula also abounds in natural attractions. One of which is Mount Ai-Petri.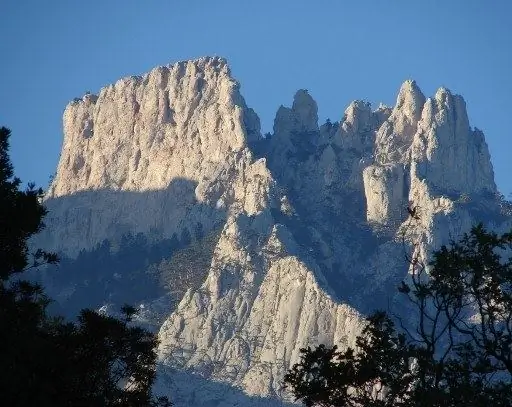 Where is Mount Ai-Petri and how is it remarkable
Visitors to the Crimean Peninsula get a great aesthetic impression when visiting the Vorontsov and Livadia palaces, the most beautiful Swallow's Nest castle on Cape Ai-Todor, Nikitsky Botanical Garden, the palace of the Crimean khans in Bakhchisarai. They can also visit Mount Ai-Petri.
The name of the mountain is of Greek origin and means "St. Peter" in translation. The highest height of one of its peaks is 1234 meters. The mountain rises above the Black Sea coast of Crimea, approximately halfway between the city of Alushta and the village of Koreiz. It is located on the territory of the Yalta mountain-forest reserve.
Ai-Petri looks very picturesque due to its characteristic "teeth" - four large (up to 80 meters high) and many small ledges on its crest. These ridges are the result of the weathering of rocks over a very long time.
The top of this mountain is the most foggy and windy place in Crimea. Moreover, the wind sometimes reaches a hurricane force there (the maximum recorded value is about 50 meters per second). Such an example is very eloquent: the wind farm that was built there became inoperative due to the breakage of the rotor blades. They simply could not bear the force of the wind.
But most of all, Mount Ai-Petri is known for the fact that a cable car was laid to its top, which is one of the longest in Europe. Many tourists use its services to enjoy the beautiful view from above to the Black Sea, the southern coast with its gardens and vineyards, and Yalta, which is literally at a glance. Unfortunately, fog often occurs there, due to which the view partially loses its splendor.
How can you get to the top of Ai-Petri
In addition to the described cable car, the top of the mountain can be reached on foot. That is, only the last section of the ascent will have to be done on its own, and most of the way can be traveled by motor transport along the Yalta-Bakhchisarai highway. There are several hiking trails of different difficulty categories. It is better to use the services of a guide to complete the route.
It is also necessary to take into account that at an altitude of about 1200 meters above sea level, it can be very cool even at the height of a hot summer! Therefore, when going to Mount Ai-Petri, tourists should take some warm clothes or at least a light windbreaker with them.